---
Development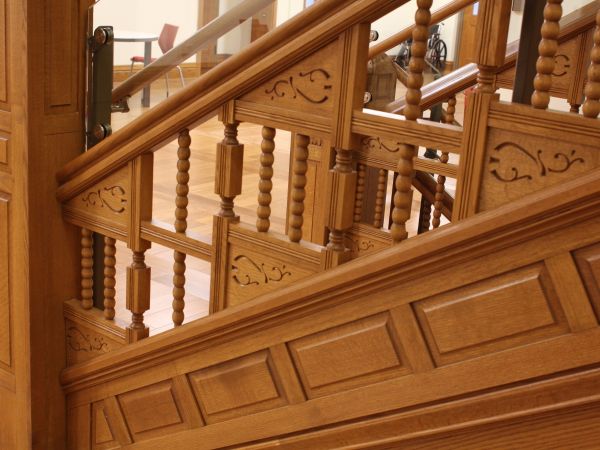 Designing historical wood staircase systems is a very comprehensive process. A multitude of skill sets are needed. Designers must be knowledgeable in structural design theory involving weight load distribution, anchoring of the main wood or metal support members and the proper assembly process for various wood components. Historic wood stair systems often require a larger amount of skilled time investment than modern stairs. All historic individual components must first meet stringent structural analysis. After current codes and stair building techniques have been addressed, all of the historic wood components can be fabricated and built around the new substructure.
Designs/Drawings
Through the development stage of staircase design, a general idea of a functional stair system is compiled. Designing the various wood components of a historical nature needs to be specified and evaluated as part of the whole historical requirement of the client. In other words, details are analyzed for not only the components, but also how the design may affect the final installation location. Site plans, component drawings and a 3 dimensional rendering all help in clarifying what the final staircase will be and verify its historical authenticity. Once the owners expectations have been satisfied, the designs are then approved. Material purchasing is the next step.
Materials
Staircase building, due to it's structural nature and aesthetic appeal, must be made from only the finest woods available. Filtering through large amounts of wood stock is needed in order to choose the exact quality, thickness and grain pattern desired. Modern standardized lumber thicknesses are, in the opinion of Heritage Restoration, a bit substandard. For example: Often, 3/4 inch thick boards are specified. We believe however, that a full 1 inch thick board is structurally better and is in keeping with historical dimensions for woodworking in past centuries. Selection of the proper dimension and quality of woods can not be over stated. The challenge is to find modern woods that exhibit the historical colors and wood grain patterns of traditional wood designs.
Shop Production
Having top quality raw materials to use for staircase production is a necessity. Equally important to proper wood working, are qualified craftsmen and the proper equipment. A well 'stocked' shop is critical when building a volume of stair components. Ultimately, every riser or tread must meet exact standards. Historic spindles and railings must fit togerther not only at the joints, but also as a whole system. Parts and wood carvings are milled to detailed standards allowing for a tight and perfect fit. Dry testing is done in the shop, prior to finishing, as a final quality control measure.
Finishing
Considering the amount of time and effort spent on designing, material selection and production of a historical staircase, Heritage Restoration insists on a beautiful and long lasting finish be applied to the wood components. Only top quality industrial coatings are used in our staining and clear coat process. Modern finishes almost always require some additional steps in order to achieve a truly historical looking staircase. Our first step usually requires that we 'age' the new wood, so that the subsequent stain coats will give the appearance of much older wood. We can control the 'aging' at this stage and come up with the appearance 100 to 300 year old wood. A fantastic process completely proprietary to Heritage Restoration and Design. Only genuine modified oil stains are used. These stains deliver a deep penetrating color and provide great long term protection for the wood components.
Onsite Assembly
The final step in the completion of a historical staircase is the actual on-site installation. Heritage Restoration and Design employees are very experienced craftsmen, trained by our knowledgeable leadership and fully qualified for any installation process. Often our professional installers were involved in the entire process, from designing through finishing. They have complete knowledge of the stair system, ready to proceed with installation. Delivery of material components to the job site is done first. All parts are carefully packed and protected. Everything is allowed to acclimate to the installation locations temperature and humidity levels. Installation starts with a final dry assembly of sections verifying quality. Sections are then permanently glued and fastened and installed into their final location. This process allows the installer to make final minor adjustments on site due to specific floor or wall conditions. In a relativey short time, the entire historical staircase is finished and ready for use.
---
Heritage Restoration and Design prides itself on our ability to provide our clients with authentic historical reproductions. We strive for a stair system that will survive generations of use. Our company's mission is to, 'Design, Restore and Preserve for the Future".
---