Creating Mosaic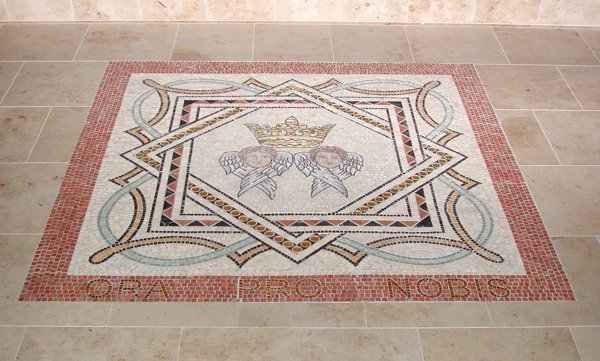 Mosaic works have long been a part of traditional architecture. The earliest discovered mosaic imagery dates back to Mesopotamia over five thousand years ago. In the millennia that followed, the art form spread into the Greco-Roman world. During the fourth century AD, Christians began to decorate church interiors with mosaics on the walls and ceilings. This style of expression thrived in the Byzantine empire, and spread into its territorial holdings such as famous the Basilica of San Vitale in Revenna, Italy.
Mosaic master craftsmanship has been passed down through the ages, combining a wealth of knowledge from past generations with the technological advances of today. However, mosaic work is still often done in the traditional manner of one piece at a time. Heritage Restoration and Design Studio, now in its sixth generation, is dedicated to the designing and manufacturing of traditional style mosaic floors and wall panels. Our employees are skilled craftsmen in the conceptual designing, manufacturing and installation of new mosaic works.
Materials
Mosaic is an art form which uses small pieces of materials placed together to create a unified whole. Mosaics are typically made using natural materials such as polished and unpolished marbles, split or smooth stone, cut or polished granite, and special solid semi-transparent or translucent vetro. Glass pieces can be finished with gold leaf, a process popular in many churches. Some of the best quality mosaic work uses the various surface finishes to help create a three-dimensional look. This technique offers depth as part of the final work.
Heritage offers a wide variety of mosaic art styles and designs.
Styles
Geometric
Florals
Scenic
Religious
Decorative Patterns
Medallions
Borders
Designs
Church/Chapel Walls and Ceilings
Narthex/Foyer
Floors
Ceiling
Domes
Projects
Floor Border
Outlining