Heritage Restoration and Design has many years of experience in the manufacturing of new stained glass windows. We design stained glass not only to match many historic styles, but also to flow with interior design schemes of existing or new buildings. When it comes to leaded and stained glass designs, there are virtually limitless options. Below are some of the many thoughts we have on new glass design and the general steps we take in designing and manufacturing new stained glass.
Designing
Stained and leaded glass windows are a very descriptive art form. In their simplest form, they can be used to tell generational stories, highlight architectural elements, add vibrant color to the surroundings and provide a unique design element as only textured and colored glass can do.
Conceptualizing stained glass is a very artistic process usually conducted hand in hand with the client. The job of the stained glass firm is to determine the reason the client wants this type of glass work, and then create a design encompassing the intended vision of the customer. The windows and panels often tell a story. This is especially true in houses of worship and other institutional buildings.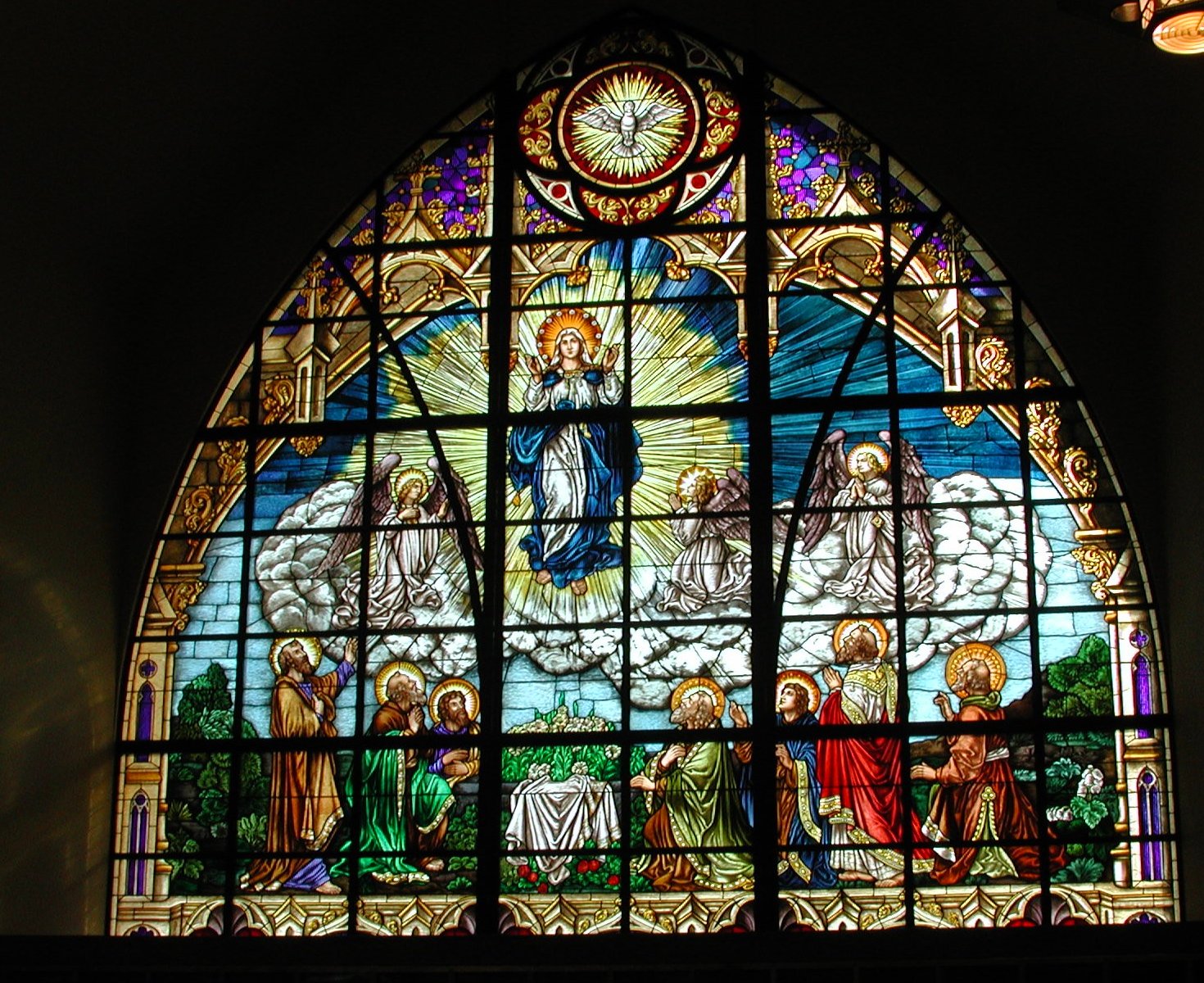 Three main thought processes, individually or combined, are employed when conceptualizing the desire for true stained glass. The first process considers that the client is looking to bring a noticeable design element into a space that compliments its surroundings. For example, stained glass in cabinet doors or over door entrances. The second is the inclusion of color into a space. Nothing compares to natural light transmitting through colored glass. An example might be a waiting room that is otherwise very corporate and 'institutional' without a splash of color. Another example is a Tiffany lamp shade sitting in an office or home. And finally, the third process is the desire to tell a story with windows or panels. Common examples are houses of worship and state and federal courthouses. Churches often tell a story by using a series of windows to, for instance, describe the Life of Christ. By comparison, courthouses may have a ceiling dome with rich colored geometric patterns, or depict Lady Justice with the scales. By no means do either of these thought processes have to be used individually. Combining an architectural space with color, while at the same time telling a story, is seen in the most descriptive windows in the world. Resurrection Church in Leawood, Kansas, the Cathedral Basilica in Lexington, Kentucky, the cemetery mausoleum in Justice, Illinois, any of the major cathedrals in Europe, and even in the Al Faisaliah Centre, Riyadh, Saudi Arabia are great examples of large windows full of design and color that tell great stories.
An art glass master will consider the intended purpose and location, color, translucency and texture when designing new stained glass windows and panels.
General Process for New Window Creation
Conceptualizing with the client
Include in the preliminary designs the elements of architectural design, color, texture and the story the windows are to tell
Provide preliminary sketches for consideration
Provide preliminary full color representations of each unit
Client approval
Studio full size cartoons
Making of the windows
Shipping and installation at clients location
New window manufacturing is a lengthy process and requires many hours of design prior to creating the beautiful work of art. Sometimes it is feasible for a client to do a full set of panels or windows complete with installation. Other times, the client may want to do a project in phases dividing the cost over several years. Heritage Restoration and Design will work with the clients specific needs and budgets.
Styles
Geometric
Florals
Scenic
Religious
Light Capturing
Traditional
Gothic
Roman
Beveled
Etc...
Designs
Church and Chapel
Transom Panels
Doors and Sidelights
Tiffany Lamps
Suspended Ceilings
Ceiling Domes
Backlit Units
Cabinet Doors
Furniture
Restraunt and Pub
Etc...
Client Locations
Churches
Atriums
Restraunts
Courthouses
Homes
Retail Storefronts
Education Facilities
Healthcare
Corporate Offices
Museums
Libraries
Hospitality
Etc...