---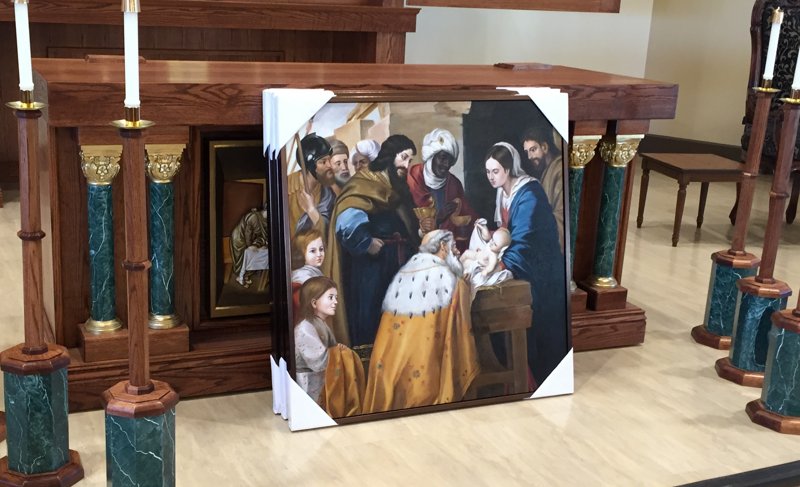 "Structure, Beauty and Emotion are all possible through a painting" Michael H. Berlinger
Oil On Canvas History
Oil painting, at its roots, uses a purified linseed oil base. Various colorants are mixed with turpentine and accelerants to create the well known colors and brands that are common today. While oil paints are often associated with the works the great Renaissance artists, the use of oil as a fluid medium can be traced back to time of the early Roman Empire.
Oil Paints
Painting with oil colors gives the artist the detail and depth that can only be achieved with this medium. While Heritage's artists have experience working with acrylics and other paint bases, we feel that oils give us the most freedom to create beautiful works of art. From a technical viewpoint, the outstanding ease with which fusion of tones, or color, is achieved make oils unique among fluid painting mediums. At the same time, satisfactory linear treatment and crisp effects are easily obtained. Opaque, transparent, and translucent painting all lie within oil's range, and it unsurpassed for textural variation. All of these wonderful attributes are worked into our new works of art and recreations.
Canvas
Currently canvas is made of a cotton blend. This was done to help decrease the cost of the base materials; however, it is still possible to create works of art on the original linen canvases. Depending on the application, Heritage will then stretch the canvas on a stretcher frame and prepare it to accept paint. If the canvas is to be applied to a wall or ceiling, it will be stretched using different methods and then a table will be prepared to accept the canvas. It is critical that the canvas is treated properly from the beginning, so as to avoid harmful elements such as acids degrading the integrity of the painting structure.
A very unique offering from Heritage Restoration is the ability to paint on wood, as done by the masters of the past. This skill is unique to our company. Proper back priming and bonding is guaranteed. Wood backed oil paintings tend to grow quicker in value than canvas counterparts.
The artists employed at Heritage Restoration and Design paint beautiful replicas of the original masters, or create new imagery per clients' requests. We match the image to the artist guaranteeing museum quality results every time. Call for more information and to recieve a quote.
We also supply framing! Frames
Some Notable Past Works of Art:
Murillo's Immaculate Conception (84''x 108'')
Custom Imagery for educational institutions
Godfrey de Bouillon, original work after a woodcut
Various religious saints
Nativity scene
Old Jerusalem
Angels and Cherubs
New Orleans 1803
Cartagena 1600's, Castillo San Felipe de Barajas
Neuschwanstein Castle, Bavaria, Germany
Mespelbrunn Castle, Germany
Castle Alcazar de Segovia, Spain
'Bouquet Sunflowers' after Claude Monet
Contact us for more information or for any of your painting restoration needs!