Project Overview
Heritage Restoration was invited to bid and participate in the restoration of Unity Temple, designed by world renowned architect Frank Loyd Wright. This famous building is on several historic registers and is an UNESCO World Heritage Site applicant. It was Heritage Restoration's responsibility to restore all of the historic millwork in this building and replicate any missing components as needed.
---
Project Web Series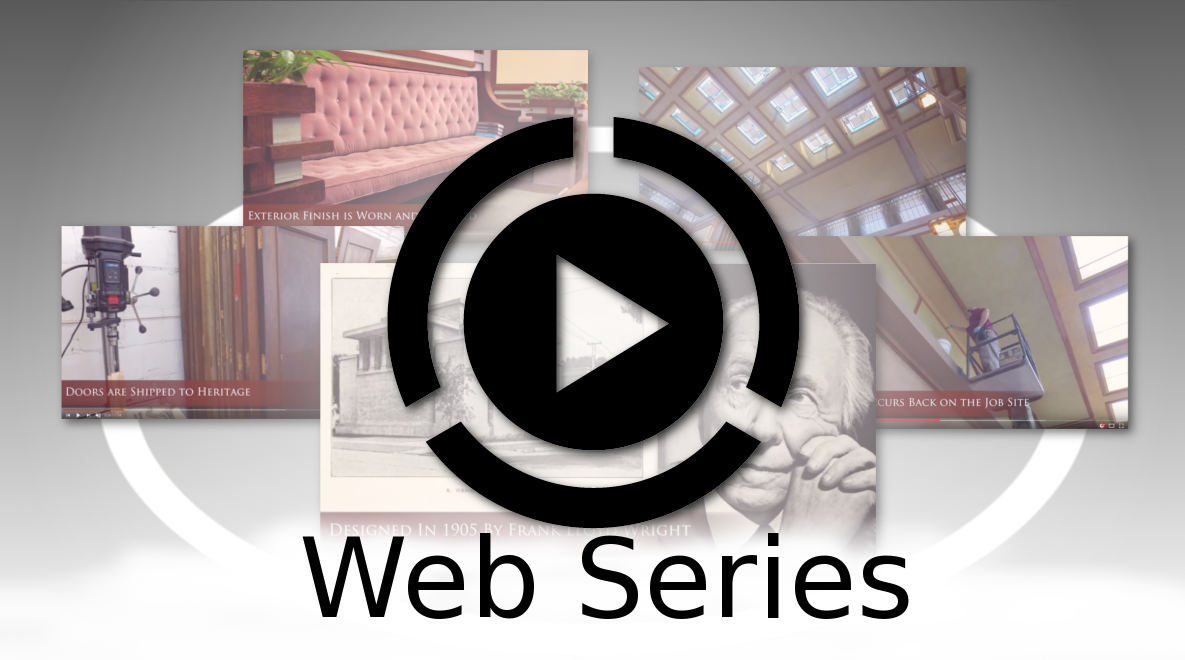 Project Highlights
Door Manufacturing
Door Restoration
Custom Casework
Historic Millwork Restoration
Historic Millwork Replication
Pew Restoration
Light Fixture Restoration
Light Fixture Replication
Dutchman Repairs
Custom Finish Matching
Millwork Cataloging
Onsite Touch up and Refinishing
In Depth
"The 2017 Unity Temple restoration was a unique opportunity to exhibit our wood work and finishing expertise. We are delighted to have been part of this project and contribute towards the revitalization of this significant landmark in American architectural history." Stephen Berlinger, Chief Operating Officer
Unity Temple has miles of running trim that make up the extensive network of moldings that crisscross around the interior of this well known landmark. It was Heritage's responsibility to remove the millwork from the existing building and maintain a catalog of uniquely identified boards. From this point Heritage was to identify which boards needed what type of treatment. Some of the millwork was to be cleaned with a specialized millwork restoration formula, other components were to be completely stripped and still others were so badly damaged that they needed to be replaced. Custom blending of finishes and grain types was critical to creating a consistent final product.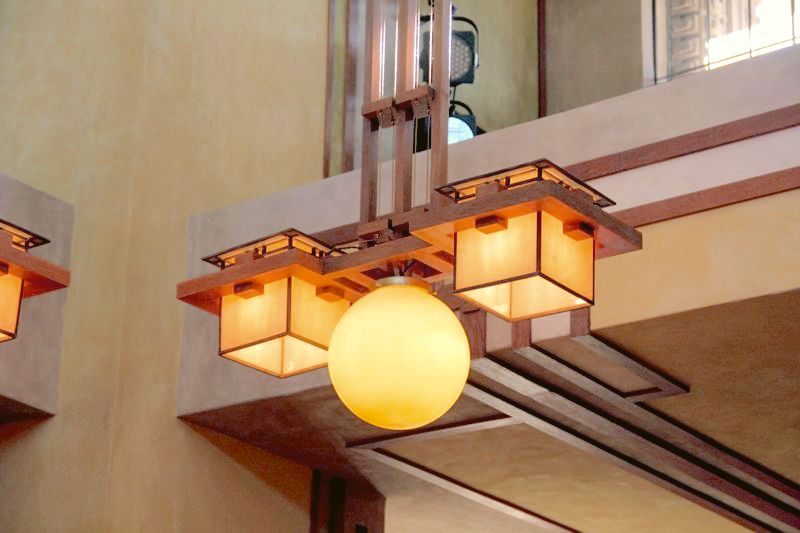 Wooden light fixtures in this building were also restored by HRD in conjunction with other lighting specialists. Heritage stripped and refinished the large units as well as retrofit the millwork so the fixtures could be brought up to UL code. Some of the light fixtures were not original to the building and did not carry the design value of the original units. Heritage built new light fixtures to match the original designs. All of these units had to be coordinated with the general contractor, architect, lighting restoration company, and onsite electricians.
The physical temple portion of the Unity complex, is made up of many tiers of overlooking balconies. All of these balconies contained pews that needed to be restored and modified. The pews finish was badly damaged and some of the pews were splitting and bowing from substantial water damage. All of these pews were unassembled and numbered for restoration. In the upper balconies it was discovered that lighting at night was indeed a problem. People had the tendency to stumble on the concrete steps. It was decided that the pew end caps needed to be modified to contain down lighting. Precise cuts needed to be made in the pew end caps to allow for the new friction fitting light system.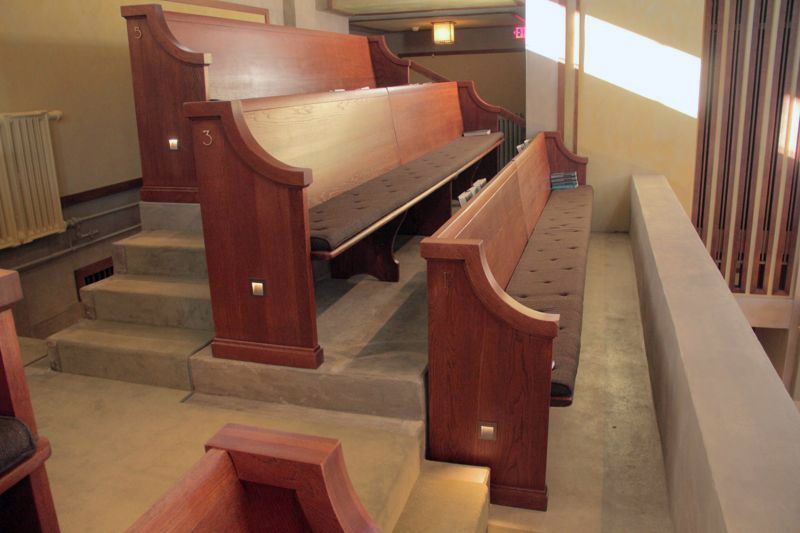 In the Unity House, the upper Sunday school rooms were also renovated. A new glass wall and cabinet system were introduced to help isolate these chambers from the rest of the building. The design of these new rooms was critical to not interfere with the over all flow of this unique space. Heritage coordinated with the architect and general contractor to develop a series of cabinets to accept the load of the glass wall and contain concealed roller blinds to allow the chambers to be separated as needed.
The wood doors in this building were also in great need of restoration. Many of them had blistering veneered panels and were cut short to allow for airflow in and out of rooms. Heritage salvaged the doors that were deemed salvageable and repaired the various damages to them. Among the variety of repair techniques used on these doors was Dutchman repairs. Additionally Heritage produced new wood doors to replace those that were too damaged to be repaired and or had a mismatched design. There were approximately 50 doors that were to be restored, repaired or replaced with replicas, including exterior wood doors, interior style and rail doors and interior fire rated wood doors.
After the installation of the newly restored wood components, Heritage's artisans arrived to touch up any damaged pieces and to do final blending on any boards who's coloring was not conducive to neighboring units. Heritage's staff made many trips to the jobsite to pickup components, make deliveries and do onsite restoration for all of the components that were too difficult to remove from the jobsite.
Unity Temple -Oak Park