Details

Category: Large Projects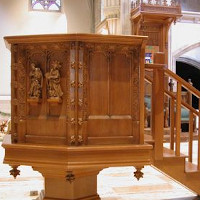 Project Overview
Heritage was asked to review a collection of historic millwork and design a new pulpit and bishop's canopy around the historic components. The 100 year old millwork was in need of stripping and refinishing. The wood components needed to be blended in with new wood components in a manner in which they were allowed to stand out on their own. The original millwork was very dry and brittle and required special processes to rejuvinate the wood components without creating splits and warping material. HRD suspended a wooden cross weighing 250 pounds across a 75 foot expanse at 35 feet in the air. Heritage manufactured a set of custom wood candlesticks with built in historic wood statuary.
Details

Category: Large Projects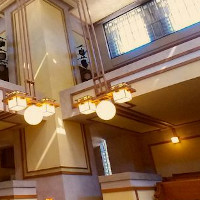 Project Overview
Heritage Restoration was invited to bid and participate in the restoration of Unity Temple, designed by world renowned architect Frank Loyd Wright. This famous building is on several historic registers and is an UNESCO World Heritage Site applicant. It was Heritage Restoration's responsibility to restore all of the historic millwork in this building and replicate any missing components as needed.
Have Questions?
Give us a call
PH: 309-637-5404
Heritage is open 8 A.M. to 4 P.M. CST. If you are calling when we are not open, leave us a message and we will get back to you with in 24 hours.
Send us an email
If you have large files to send ask for a link to our private cloud service to securely send your files. We believe in data security.
Contact
309-637-5404 877-637-5404 (Orders) 309-637-5740 (Fax)
info@heritagerd.com
207 Voris St. Peoria, IL 61603
About
Heritage Restoration & Design is a family owned corporation whose knowledge has spanned 6 generations. Our firm's work can be seen in a variety of buildings all across the United States. We specialize in interior design, churches, historical buildings, homes, and health care centers.
© 2023 Heritage Restoration & Design